I missed a few shots of the oil change (the ones that would have required covering my phone with oily fingers) but this should be enough for anyone who's doing their oil change for the first time on the Panigale.
The drain bolt is along the centerline of the bike and can be accessed without removing the bodywork. If you don't have stands and need a little extra space for your eyeballs, hands, tools and drain pan, pick up your rear/front tire and place on top of phone books or 2 x 4s.
You can see where the drain plug (#8) and filter (#5) are here (the drain plug is kind of hidden under the bike, but keep looking, it's recessed in black plastic):
The bike should be warm, not hot (unless you have a friend you don't like who'll be removing the drain plug for you), so all the oil drains out. If it's cold it'll take a day to trickle out.
1) Purchase 4 quarts 20w50 Synthetic Oil if you're in a hot climate, or 10w40 Full Syn if not), 1 washer and 1 oil filter from a Ducati dealership or save yourself $$$ and get the last two online.
2) Place bike on stands (or elevate)
3) Remove left side lower fairing (if replacing the filter)
4) Remove the drain plug/washer and let the sump drain into your oil pan
5) Place Aluminum foil underneath the Oil Filter Cover (to prevent oil from dribbling into your exhaust, which could catch fire on your next ride)
6) Mark a dot on the top of the Oil Filter Cover to make sure you put it back with the top side facing the right direction, then remove two bolts securing Oil Filter Cover
7) Carefully pry the cover off with pics, taking care to pry it gently and evenly on both the top and the bottom so it comes straight out and not at an angle (I drilled holes in mine last oil change to make it easier).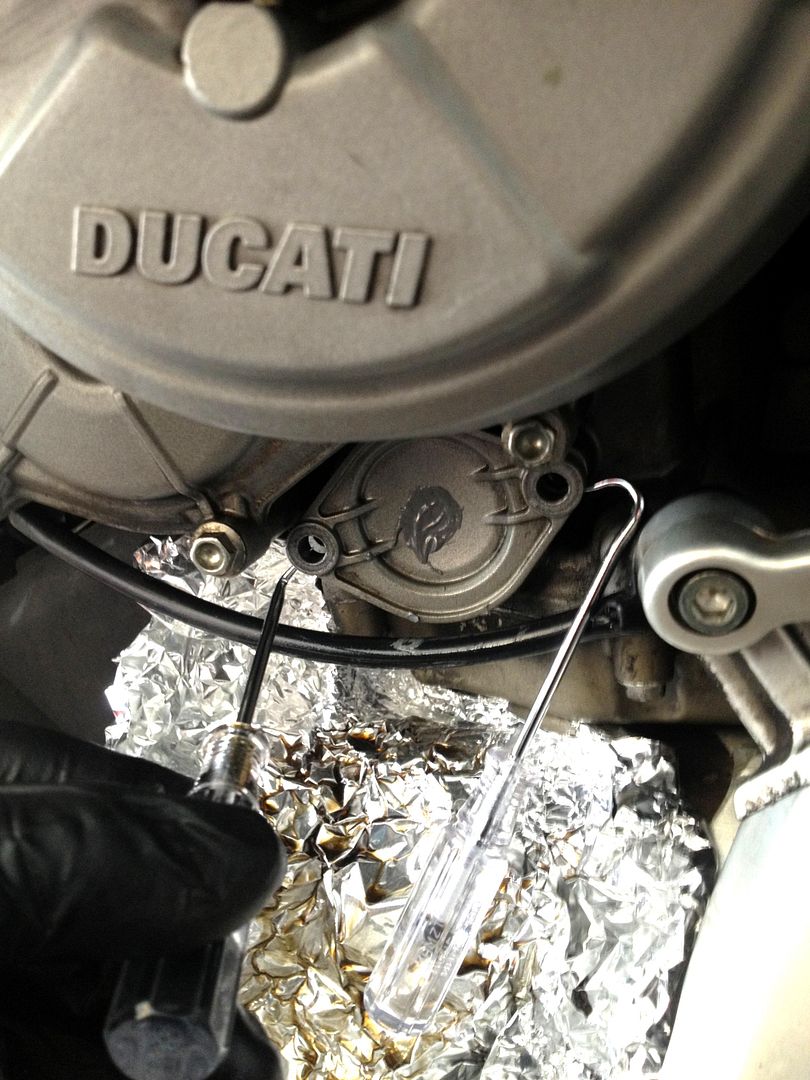 8) Use pics to get the tight-fitting filter out of the oil-filter cavity (not pictured). If it's stubborn, puncture the black thing in the center (it's a pressure relief valve).
9) Put new filter in. The filter has a hole on one side and the aforementioned black relief valve on the other. The end with the rubber gasket protrusion and 'female' hole goes in first, with the solid black cover (hymen) facing out. If confused, just make sure what looks like the solid end is facing you when installed.
What the filter looks like from the side:
10) Drill small holes above each bolt hole as in the pictures to make removing the cover a 10 second job (nice easy place to insert your little hooks):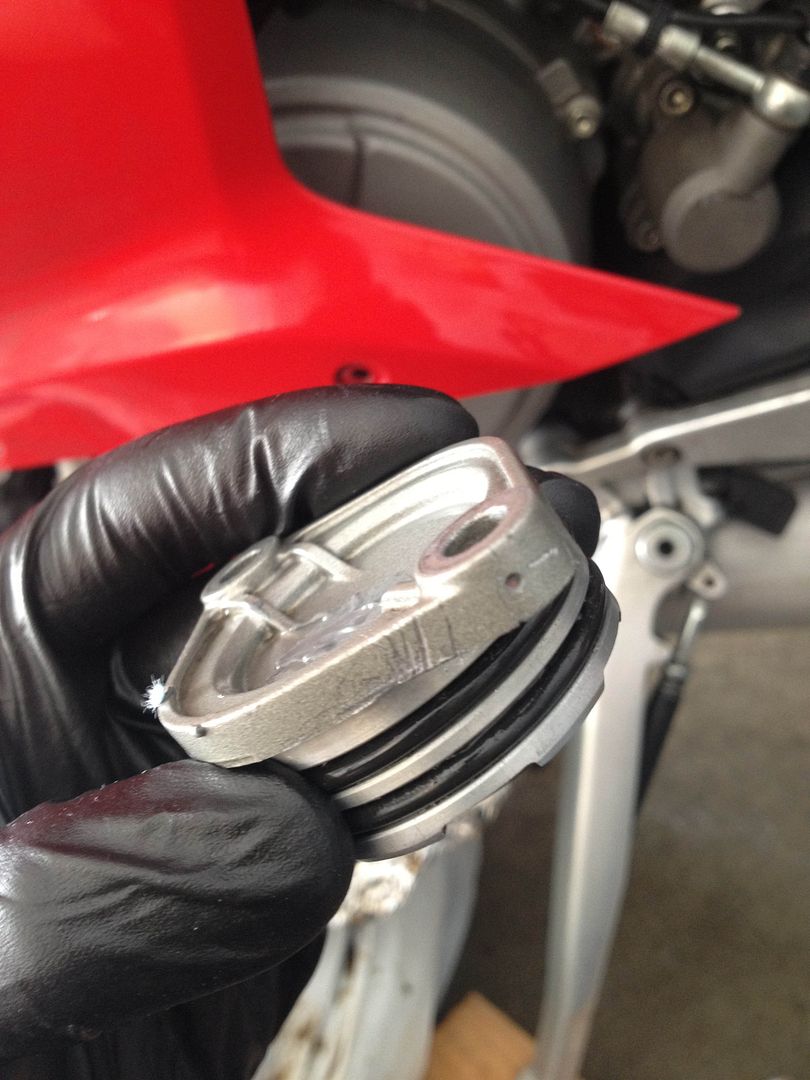 11) Bolt the cover back on securely taking care that you're putting it back right side up.
12) Clean off metal shavings from the Drain Bolt Uber Magnet, replace washer, tighten to spec.
13) Fill crankcase, check level, start and let warm, checking to make sure there are no leaks.
14) Wait 5 min. and check oil level.
15) Figure out how to reset your "Service" light.
16) Wait until midnight and dump oil in the backyard of your inconsiderate next door neighbor.
If you don't have picks/hooks, you can get them at any auto parts store or buy
here
.
Torque specs:
Oil Filter Cover bolts: 13NM (9.6 ft. lbs)
Drain bolt: Don't know, couldn't find. After years of wrenching I prefer to hand-torque bolts (especially if there's oil on 'em) unless it's an odd one (like for rotors).
P/Ns:
Filter is 444.4.029.2B
O-rings #886.5.056.1A (I haven't replaced these and they're still holding up fine)
Drain Plug Washer: 852.5.054.1A
Oil: Full Synthetic, Typically 3.2 quarts w/filter change, not 3.7 as the manual states).
Oh yes: safety wire is your friend:
(And yes, that's JB weld, which was my first attempted solution to the problem of the cover removal.)