Just got back from the Orlando Cycle Gear bike night. Horst Performance was there doing dyno runs with his factory-supported Dynojet 250ix (he was the long-time dyno instructor at MMI in Central FL). I had my 2012 1199 run several times to get a very clear picture of what the RapidBike adds performance-wise over just using the supplied Termignoni Up-Map.
Below is the results of a back-to-back dyno run, where the Red Line is a dyno run with the RapidBike Race fuel controller module enabled, and the Blue Line is a dyno run with a special bypass plug that reverts the ECU back to its pre-RapidBike state of tune, which in this case is the OEM ECU with the Termignoni Slip On Up-Map and latest update.
My bike has about 10,000 miles and the power mods are an MWR HE filter, Termignoni Slip Ons, Termignoni Up-Map, and RapidBike Race module with about 3,000 miles of street riding where it has constantly "learned" and "optimized" the AFR curve.
The first image includes the horsepower curves with AFR ratios below. The second image focuses on the horsepower curves, with the 10 rwhp gain called out to give a sense of scale to the differences in the curves.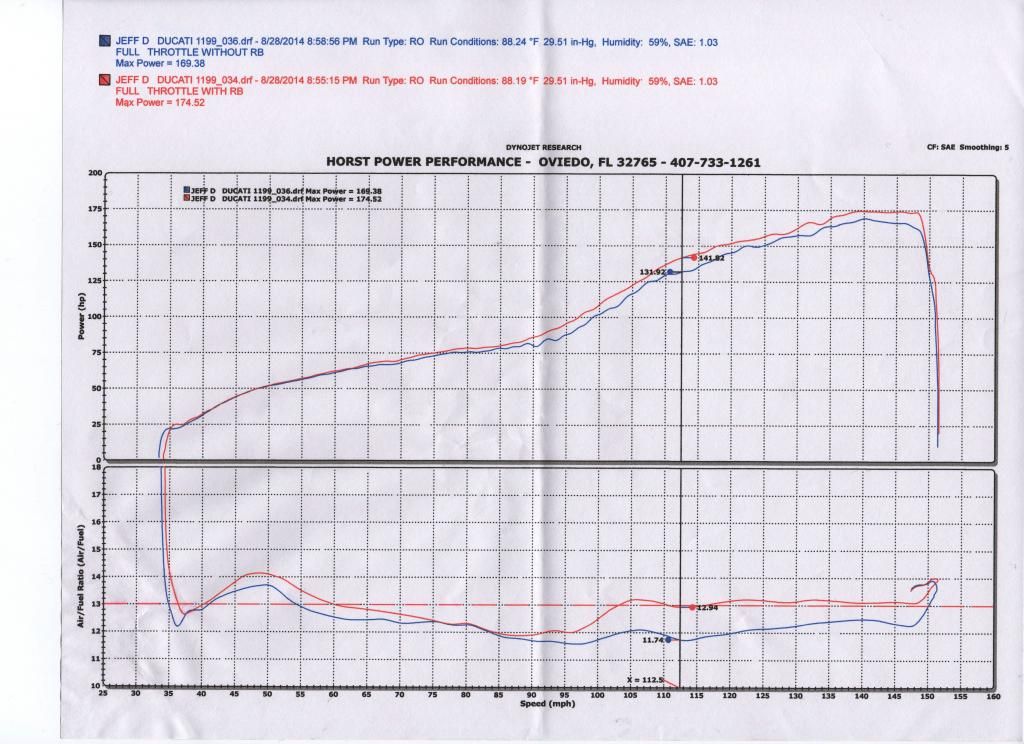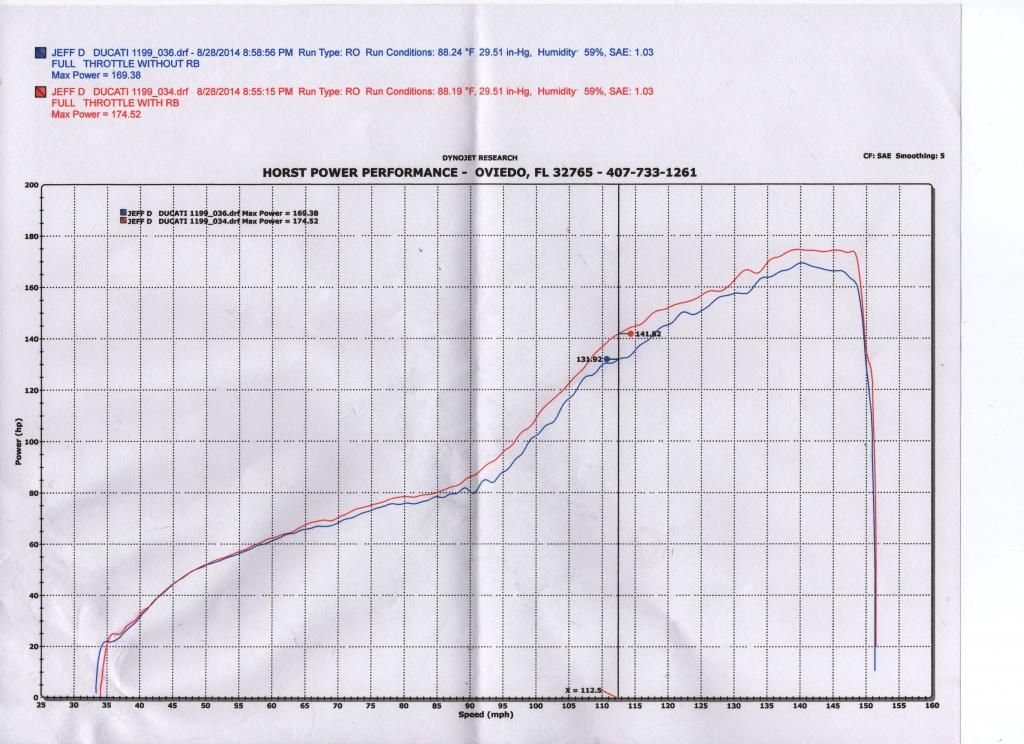 The absolute numbers are not the story here, as it was quite hot and humid out tonight. Instead, this was done to show the absolute difference between using only the Termignoni Up-Map, and then the Rapidbike Race module with some time for it to self-optimize and further improve performance.
This is obviously a massive improvement, and required no manual "tuning" by a dyno operator to achieve these results. The RapidBike Race module is simply using signals received from the OEM narrow-band O2 sensors to make real-time adjustments to the AFR curve and keep it as close to stoichiometric as possible. Of course, once you do a dyno run like this you can make fine adjustments to optimize even further which is what I will do now to hopefully make even more gains in the midrange.
This is the difference between using only the relatively generic Termignoni Slip On Up-Map, which appears overly rich since it has to work with a range of 1199's in the field at all altitudes/weather conditions/fuels, and with the RapidBike Race system that tunes
your bike
with
your mods
in
your conditions
. I believe I would have gotten the same results had I not used the Termignoni Up-Map but I decided to leave it in when the RapidBike Race module was installed.