RB FEATURES TAB OR SCREEN
This setting is another one not to change unless you are a tuner and wants to add a deeper resolution to the mapping screen, but anytime you do that , your base mapping should be checked on a dyno. This is a tuner section again end user shouldn't have to worry about these portion of the settings. You can also add a map switch and can work in 2 ways, 1- to manually turn off Auto adaptivity, 2- or see below
this future allows you to create 2 sets of maps , including ignition maps but when switched on you will loose your maps, so to prevent that you can save your current map and copy paste on the new set of let's say map 1 and map 2, including ign maps then you can use the 2nd set of maps for tracks or fuel, this is especially useful with my tuning modules and again probably a racing use only.....
Setting below is for adding , increasing the rev limiter which you can on 899 or adding more RPM's at the top or bottom
PIT LANE LIMITER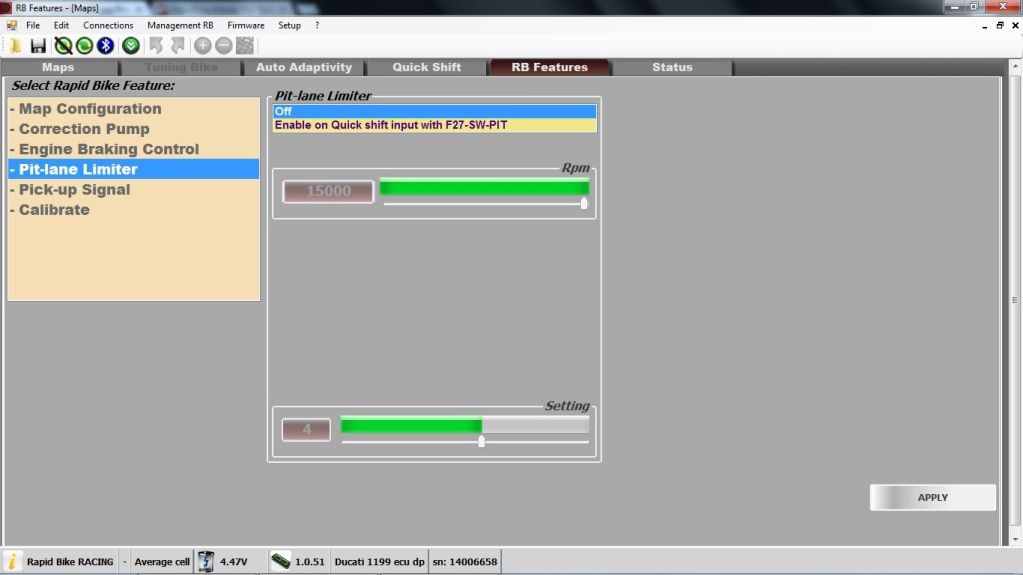 This is for just like what it sounds like, we do sell the switch but this future's settings are going to depend on the riders preference you can set your RPM and sensitivity (how hard it cuts when activated) unfortunately for the 899 or 1199 , this future is not gear dependent like almost every other models where it allows you to set each gear in different RPM and sensitivity.
I should also mention, we can not create a gear dependent mapping for the Panigale because of the gear position sensor, again on every other make and model it is possible to make a map for each gear and let auto adaptivity correct each gear's fueling needs.